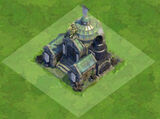 General Information
Edit
Tactics are the supporting advantage in attacking players and bases in DomiNations. Tactics can be deployed during battle and provide a special advantage to the player during that battle. They are purchased using Food from the War Academy and researched at the Blacksmith.
War Academy Tactics
Edit
Tactics that can be created in the War Academy. Tactics listed by order of availability to the player.
Nation Tactics
Edit
Tactics that are available for specific Nations.
Wonder Tactics
Edit
Tactics available for players who have specific Wonders