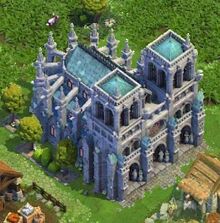 "Reduces the cost of Library technologies and unit upgrades. Cannot be attacked. Once a day you may collect bonus gold."
Description
Edit
Enemy troops do not attack this building, much like how they ignore Fruit Trees and Gold Mines.
When the building is selected, a timer shows how long before the bonus Gold can be collected again.
A strong choice for every nation, Notre Dame can conserve an extreme amount of resources for the player. However, it doesn't offer much else defensively or offensively. If you seek a strong offensive or defensive option, this wonder is not for you.
Build Details
Edit
| Stage | Cost | Time |
| --- | --- | --- |
| 1/5 | 80,000 | 5h  |
| 2/5 | 80,000 | 5h  |
| 3/5 | 80,000 | 5h  |
| 4/5 | 80,000 | 5h  |
| 5/5 | 80,000 | 5h  |
| Total: | 400,000 | 25h |
Historical Description
Edit
This wonder can save you up to 10 million in resources (provided that you completed this wonder prior to any Blacksmith research and Library techs acquired in the Classical Age). As of the Oil Boom update, it can save you much more Oil.
Ad blocker interference detected!
Wikia is a free-to-use site that makes money from advertising. We have a modified experience for viewers using ad blockers

Wikia is not accessible if you've made further modifications. Remove the custom ad blocker rule(s) and the page will load as expected.