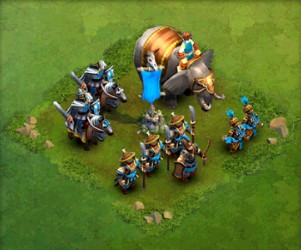 "Here, elite mercenaries can be recruited to your cause... for a price!"
General Information
Edit
At the Mercenary Camp you can recruit Mercenaries to fight for you in battle. Units can be recruited using Trade Goods. Upgrading the Mercenary Camp increases the number of units it can hold and also allows you to recruit more powerful units for more Trade Goods.
Base Statistics
Edit
Level
Upgrade Cost
Citizens

Needed

Upgrade Time
XP Gain
HP
Capacity [1]
Unlocks
Age Unlocked
1
2,500
4
15m
?
1,000
1
Nubian Archer
Bronze Age
2
13,500
2h
285
1,060
Hittite Warrior, Assyrian Horse Raider
3
60,000
8h
610
1,131
2
Greek Javelineer, Persian Heavy Cavalry
Iron Age
4
300,000
1d
1,115
1,191
2(3)
Hun Warrior, Steppe Horse Raider, War Elephant
Classical Age
5
1,500,000
2d
1,630
1,240
3(4)
Chinese Hand Cannon, Templar Knight
Medieval Age
6
3,000,000
3d
2,040
1,570
Ronin, Condottieri Raider, Mahout
Gunpowder Age
7
5,000,000
5d
2,700
1,630
4(5)
Tercio, Hessian Cavalry
Enlightenment Age
8
7,000,000
9d
3,725
1,700
Gurkha, Flammpanzer, Bedouin Raider
Industrial Age
9
9,000,000
10d
3,950
1,870
5(6)
Legionnaire, Jagdpanzer
Global Age
10
10,000,000
12d
4,365
2,245
Freedom Fighter, BRDM-1, Tank Destroyer
Atomic Age
The Free Companies Technology at the Library confers these bonuses to your Mercenary Army:
Chapter 5 of the Resistance Technology at the Library produces a Flammpanzer on defense when destroyed.
Ad blocker interference detected!
Wikia is a free-to-use site that makes money from advertising. We have a modified experience for viewers using ad blockers

Wikia is not accessible if you've made further modifications. Remove the custom ad blocker rule(s) and the page will load as expected.