"The Kremlin is a fortified complex located in Moscow near the Moskva River."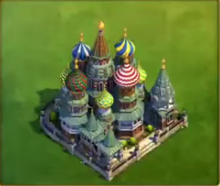 Description
Edit
The Kremlin is a wonder that becomes available in the Industrial Age.
When your farms are destroyed in battle, defenders will spawn.
This wonder will boost nearby walls. Placing it nearby an important set of walls can stop marauding melee attackers from reaching key buildings.
Researching Ramparts will increase the effectiveness of this wonder.
In-Game Description
Edit
Increases health of nearby walls. Defenders will spawn from any of your farms destroyed in battle.
Much like the Civilization games and Rise of Nations, this wonder depicts St. Basil's Cathedral.
Kremlin is actually a fortress, which wouldn't usually fit a 5x5 square.
Statistics
Edit
| | |
| --- | --- |
| Size | 5x5 squares |
| Cost | 12,500,000 Food |
| Hp | 3,900 |
| Boost Range | 10 tiles |
| Wall Health Bonus | +20% |
| Partisan defenders | 2 |
| # Workers | 8 |