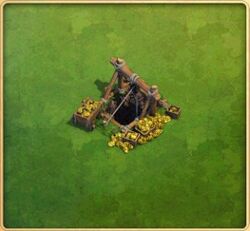 "There's gold in them there hills!"
Description
Edit
Statistics
Edit
Variables that Affect the Base Statistic (These Boosts are not included in the Info Below or shown in brackets)
Research at the Library confers these bonuses to Gold Mines:
Pottery Chapter 1: Increases resources from Fruit Trees and Gold Mines by 5%
Exploration Chapter 5: +1 Gold Mine (must be bought at the store for 550,000 food)
Ad blocker interference detected!
Wikia is a free-to-use site that makes money from advertising. We have a modified experience for viewers using ad blockers

Wikia is not accessible if you've made further modifications. Remove the custom ad blocker rule(s) and the page will load as expected.