General Information
Edit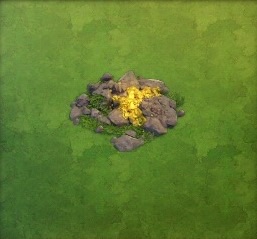 A Gold Deposit is a naturally occurring Building. There is a chance of uncovering one after clearing a Forest. Like the Gold Mine, you can use two citizens to mine Gold from it. But unlike the Gold Mine which replenishes indefinitely, you can only mine gold from Gold Deposits three times. Gold Deposits cannot be raided so you can hoard them as long as you want.
Base Statistics
Edit
Type
Mining Reward
Chance at
Citizens

Required

Mining

Time

Number

of Times

Gold Deposit
1,000
40%
2
20s
3
Large Gold Deposit
10,000
50%
Vast Gold Deposit
50,000
60%
Modifiers
Edit
These modify the base statistics above
-50% mining time.
+20% mining rewards.
Chapter 1: +5% mining rewards.
Chapter 2: +10% chance at Metal.
Ad blocker interference detected!
Wikia is a free-to-use site that makes money from advertising. We have a modified experience for viewers using ad blockers

Wikia is not accessible if you've made further modifications. Remove the custom ad blocker rule(s) and the page will load as expected.