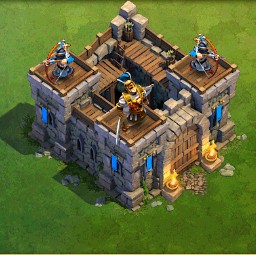 "Powerful on the defense, a Castle also allows you to appoint a powerful General to lead your army!"
General Information
Edit
The Fort (Castle) acts like a Tower when your town is under attack. Additionally, you can recruit a General who will act as a defender.
Upgrading the Castle increases its hitpoints and damage, as well as unlocks additional Generals and/or allows you to upgrade your Generals further.
When you deactivate a General, the cost is not refunded.
The Fort starts out as the Castle from level 1 to level 2 and finally becomes the Fort at level 3.
After the 5.8 balance update, the defending Generals will spawn with 70% hitpoints if the Fort (Castle) is destroyed before they go out to defend,
Statistics
Edit
Level
Build Cost
Citizens Needed
Upgrade Time
XP Gain
Unlocks General
Max

General

Level

Age Unlocked
1
850,000
4
2d
 ?
Alexander, Cleopatra, Joan of Arc
5
Medieval Age
2
2,000,000
4d
2,385
Nobunaga
10
Gunpowder Age
3
5,500,000
5d
2,700
Napoleon
20
Enlightenment Age
4
110,000
9d
3,725
MacArthur
30
Industrial Age
5
190,000
8
11d
6,090
Churchill
40
Global Age
6
240,000
12d
6,390
None
50
Atomic Age
Level
Hitpoints
Damage Per Second
Range
1
5,800
260
7
2
7,800
360
3
8,800
400
4
9,800
460
5
10,780
480
6
14,020
625
The Castle and University are the only new buildings unlocked in the Medieval Age.
Ad blocker interference detected!
Wikia is a free-to-use site that makes money from advertising. We have a modified experience for viewers using ad blockers

Wikia is not accessible if you've made further modifications. Remove the custom ad blocker rule(s) and the page will load as expected.