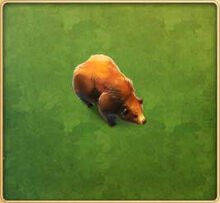 "Bears... very dangerous! You go first..."
Description
Edit
When hunted there is a chance to obtain Fur.
Bears require the largest amount of citizens to hunt them(6 citizens) and give the largest amount of gold compared to other animals that can be hunted for gold.
Statistics
Edit
Ad blocker interference detected!
Wikia is a free-to-use site that makes money from advertising. We have a modified experience for viewers using ad blockers

Wikia is not accessible if you've made further modifications. Remove the custom ad blocker rule(s) and the page will load as expected.